Central's Youth Group is a safe place for all teenagers regardless of religious background. Our mission is to challenge the youth to consider deeply their faith and to have fun in the process. Youth today face all kinds of difficult issues and youth leaders are available to listen and encourage. We get together for worship and social activities. Brittany Nunez is currently working with the youth and leading out in a Bible study. Our Youth Group is for teens and meets every Sabbath morning in the Church Fellowship Hall, across from the church parking lot, at 9:00 a.m.
Youth Group Outing - November 10, 2017
All youth are invited to another great fun event

Friday, November 10

. We will meet at

4:00 pm

at Sky Zone located at 1750 E Woodman Road. Sky Zone is an indoor trampoline park with multiple fun attractions such as SkySlam, Ultimate Dodge Ball, Freestyle Jump, and Foam Zone. The cost is $5 per person. Afterward we will meet at Pastor Mike's house for

Friday

night pizza and Bible study. If you need a ride there or home contact Brittany Nunez (
605) 877-0680
or Pastor Mike
(719) 229-8727
. Your classmates are welcome too!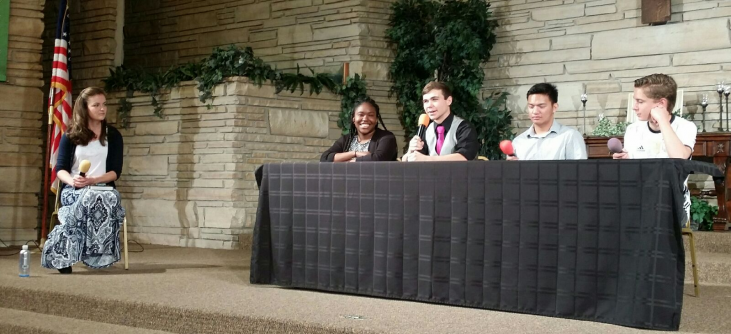 Some of our Youth answering questions from our congregation on Youth Sabbath, 2017. The topic was, "What is it like to be a Christian Youth in today's world?" Photo courtesy of Elder M.B. Armstead.
For info about our AY (Adventist Youth) Program, click HERE.
View this website in another language: