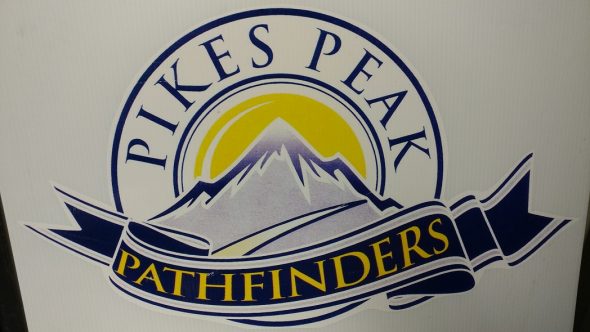 What are Pathfinders?                                                                                                       
Calling all young people ages 10-18, ready for an adventure? The Pathfinder Club is a worldwide club
that offers youth of all faiths the chance to experience the great outdoors, learn new skills, and make lifelong friends.
Pathfinders is sponsored by the Seventh-day Adventist Church, but is open to everyone, regardless of their religious beliefs. The program is based on the "physical-mental-spiritual tripod", which emphasizes
the importance of developing all aspects of a young persons life.
For more information, contact the Pathfinder Director, Miguel Lagos: mlagos904@gmail.com
What to Expect
The Pikes Peak Pathfinder Club meets each Wednesday from 6:30 – 8:30 p.m. at Springs Adventist
Academy, 5410 Palmer Park Blvd., Colorado Springs, CO. We take a break during the summer months.
Pathfinders are expected to wear uniforms (field uniform) to meetings. Each meeting starts off with a
recitation of the Pathfinder Pledge, Pathfinder Law, and a devotional. Then the kids head off to their
classes. Classes are exciting, interactive ways for Pathfinders to explore faith, nature, science and much
more. Hands-on approaches to learning make classes great ways to reinforce lessons kids are learning.
Lessons correspond with specific awards (honors). At the end of the Pathfinder Club year, your child will
receive patches representing earned honors during the year.
Pathfinders offers a wide range of activities, from camping and hiking to leadership training and
community service. Here's just a taste of what Pathfinders can expect:                                                                                                                                       
Learn about the Bible and the Christian faith. We also participate in church services and other activities.
Learn how to pitch a tent, build a campfire, and cook over the open flame. We also go on hikes, bike rides, and other outdoor trips.
Learn how to work as a team and lead others. We also participate in public speaking and problem-solving activities.
Give back to their communities by volunteering at local churches, soup kitchens, and homeless shelters. We also participate in environmental cleanup projects and disaster relief efforts.
Learn to play instruments, sing, and create art. We also participate in creative events.
Play a variety of sports, including basketball, volleyball, and soccer. We also participate in other recreational activities, such as swimming and hiking.
Pathfinders regularly participate in camporees, monthly club activities, and service projects. Camporees
are weekend camping trips where Pathfinders learn outdoor skills, compete with other clubs, and
strengthen their faith. Service projects provide opportunities to give back to the community.
Pathfinders is a great program for youth to learn new skills, make friends, and develop their faith. It's
also a lot of fun!
Events
In addition to weekly club meetings, we also participate in a service project and a fun club outing once a
month. There is also a Pathfinder Fair, an Induction (opening) and Investiture (graduation) ceremony.
Classes:
Friend: 5th Grade
Companion: 6th Grade
Explorer: 7th Grade
Ranger: 8th Grade
Voyager: 9th Grade
Guide: 10th Grade
TLT (Teen Leadership Training)
Attention teens in Grades 9-12! The Teen Leadership Training (TLT) program is a comprehensive
leadership development program for young people within the Seventh-day Adventist Church. It's
designed to empower teens to become effective leaders in their communities and in the church. The
program is based on the belief that all teens have the potential to be leaders, and it provides them with
the skills and knowledge they need to reach their full potential.
The TLT program is open to all teens who are members of the Seventh-day Adventist Church. The
program consists of a series of workshops, seminars, and activities that cover a wide range of leadership
topics.
Here are some of the key objectives of the TLT program:
To develop teens' understanding of leadership principles and practices
To equip teens with the skills they need to lead effectively in various settings
To foster a sense of service and responsibility among teens
To encourage teens to live their faith in a way that is both inspiring and impactful
The TLT program is structured around five core areas of leadership:
Personal leadership: This area focuses on helping teens develop their own personal leadership
skills, such as self-awareness, self-management, and goal-setting.
Team leadership: This area teaches teens how to work effectively with others to achieve
common goals.
Communication leadership: This area helps teens develop their communication skills so that
they can effectively share their ideas and motivate others.
Problem-solving leadership: This area teaches teens how to identify and solve problems in a
creative and effective way.
Empowering leadership: This area focuses on helping teens develop their ability to empower
others to reach their full potential.
The TLT program is a valuable resource for teens who want to develop their leadership skills and make a
positive impact on the world. The program provides teens with the opportunity to learn from
experienced leaders, network with other teens, and apply their leadership skills in real-world settings.
Don't miss out on this incredible opportunity! Be part of a dynamic community that fosters personal
development, friendship, and spiritual enrichment. Get ready to embark on a path of discovery, where
every step brings you closer to new horizons and exciting experiences. Get ready to explore, learn, and grow with us!
More information about the worldwide Pathfinder Club ministry is found at clubministries.org.                                                                                                       
How to Join
Step 1: Complete the Required Forms
1. Member Application
2. Medical Consent Form
3. Photo Release Form
4. Parent Volunteer Form
Obtaining Forms:
Contact the Pathfinder Director
Submitting Completed Forms:
Return the completed forms in person

Step 2: Submit Registration Fees
The Pathfinder Club is a fee-based program. Payment options include:
● Checks ● Cash ● Online payments
Payment by Mail:
Make checks payable to Central SDA Church with Pathfinder Dues in the memo line
Send check payment to Central SDA Church, 1305 N. Union Blvd, Colorado Springs, CO 80909
Online Payment:
1. Click here to access AdventistGiving
2. Follow the steps: >Local Church Offering > Category: Pathfinder Club
Step 3: Complete the Sterling Volunteers Course and Background Check
To ensure the safety of all participants, we require all adult volunteers present at club meetings
and activities to be screened through Sterling Volunteers. For questions, contact the Pathfinder Director.
What to Wear
Uniforms are an integral part of the Pathfinder Club experience. They foster a sense of identity,
loyalty, and community. Wear your uniform with pride, ensuring it is always neat and clean.
Two Uniform Styles:
1. Club T-shirts (field uniform): Used for most club meetings, field trips, and activities.
2. Dress Uniform (Class A uniform): Worn for special occasions and designated service projects.
 
Note: Some portions of the dress uniform are not included in the registration fee.
Pathfinders 2021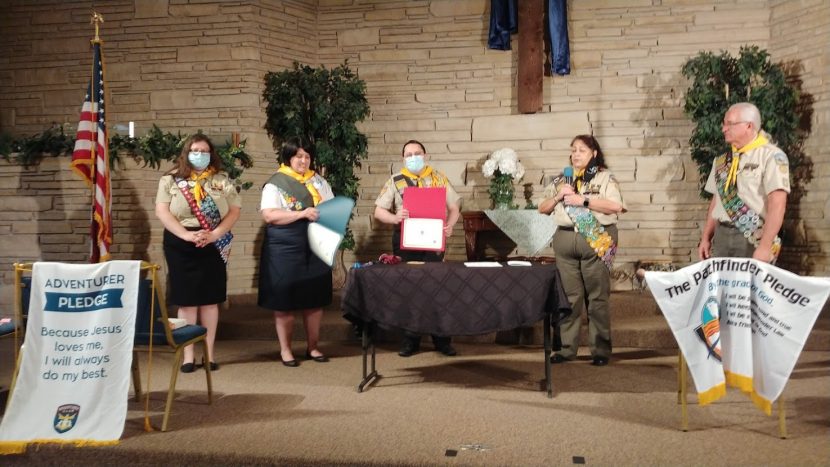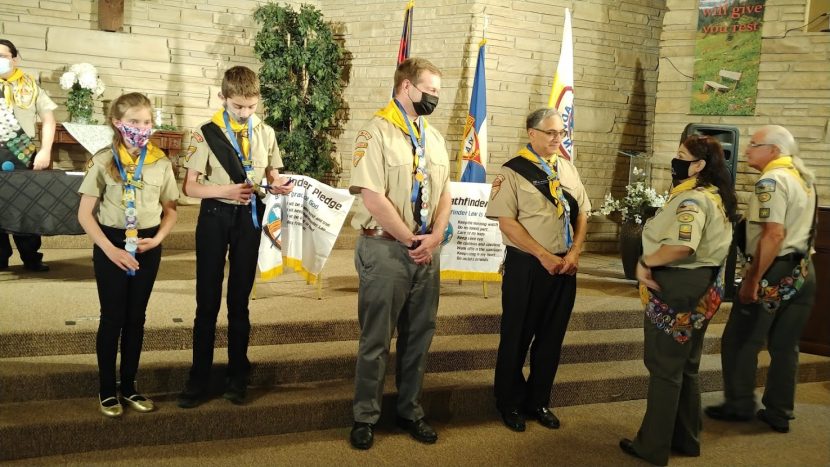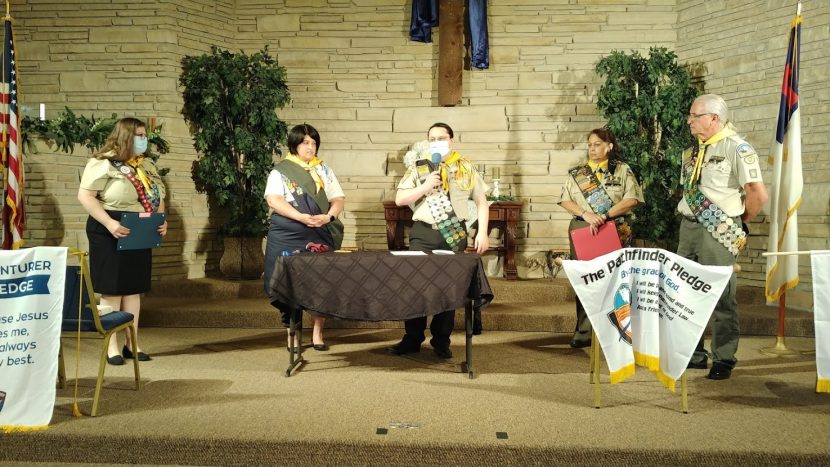 Photos from the Pathfinder Camporee at Glacier View Ranch, August 2-5, 2018
View this website in another language: